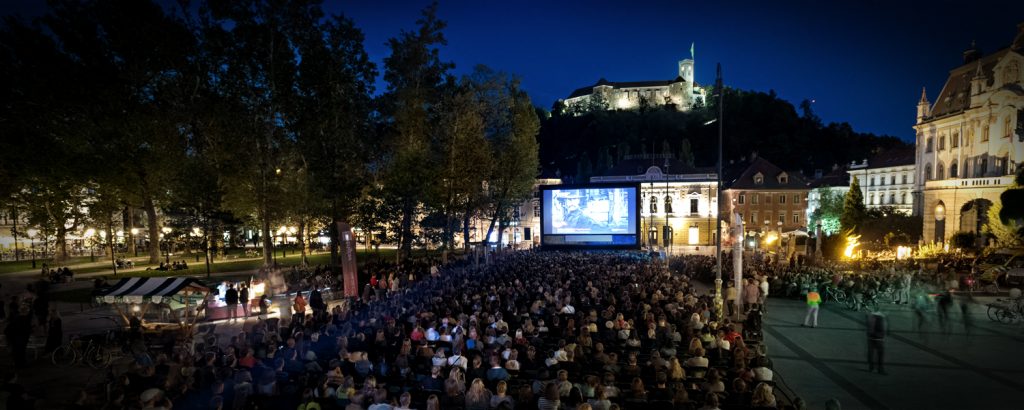 Open-air cinema at Congress Square
Join us from 27 to 30 August 2018 for free public screenings of four classic films.
Organized for the first time on the occasion of Kinodvor's 90 anniversary, our open-air cinema screens a series of all-time film classics in one of Ljubljana's most beautiful squares.
We are delighted to offer free admission to allow everyone to join us in celebrating the art of film.
What's On
2001: A Space Odyssey 2001: A Space Odyssey
Stanley Kubrick
Tuesday, 28. 08. 2018 / 21:00 / Congress Square
Stanley Kubrick's groundbreaking and visionary space epic, co-written by Arthur C. Clarke and boasting pioneering Academy Award-winning special effects, is considered one of the most influential and endlessly provocative films of all time. An awe-inspiring science fiction masterpiece which should only be seen on the big screen.
Summer with Monika Sommaren med Monika
Ingmar Bergman
Wednesday, 29. 08. 2018 / 21:00 / Congress Square
Touted by critics as "Bergman's most erotic film" and championed by the future talents of the French New Wave, Ingmar Bergman's early masterpiece Summer with Monika is a sensuous and ultimately ravaging tale of young love, the pressures of gender roles and the hardships of working-class youth, captured in mesmerising atmospheric visuals by cinematographer Gunnar Fischer.
GENERAL INFORMATION
Films are screened in their original language with Slovene subtitles. Films that are not in English will be accompanied by both Slovene and English subtitles.
Screenings are able to proceed in the event of rain.