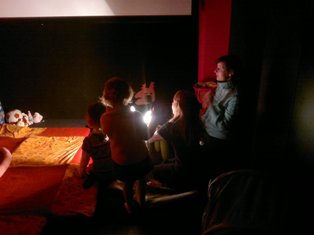 Sunday, 10. 03. 2013
V cvetličnem lončku
LGBT_SLO_1984 LGBT_SLO_1984
Boris Petkovič
Tuesday, 31. 01. 2023 / 19:30 / Small Hall
An archival-documentary account of Slovenia's lesbian, gay, bisexual and transgender movement, as well as the associated organisations that influenced the wider social arena of ex-Yugoslavia.
All the Beauty and the Bloodshed All the Beauty and the Bloodshed
Laura Poitras
Tuesday, 31. 01. 2023 / 20:30 / Main Hall
This deeply personal yet at the same time distinctly political documentary by Laura Poitras (Citizenfour) explores the inextricable link between the activism and the life and artistic work of Nan Goldin, one of the world's most prominent photographers. A Golden Lion for the best film at last year's Venice Film Festival.
Alcarràs Alcarràs
Carla Simón
Wednesday, 01. 02. 2023 / 13:00 / Main Hall
The Catalonian director shines light on the joys and troubles of a family of beach farmers facing an uncertain future. Winner of the Golden Bear at the Berlinale.