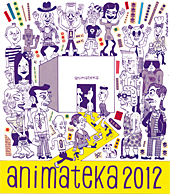 Wednesday, 05. 12. 2012
Delovni zajtrk: Pogovor s Caroline Leaf / Q&A with Caroline Leaf
Titina Titina
Kajsa Næss
Saturday, 28. 01. 2023 / 16:00 / Main Hall
Titina was a real dog who led an extra ordinary life, taking her from a harsh existence in Rome's back alleys to a lofty view over the North Pole. Inspired by true events, the film works on different levels to make it enjoyable for both children and adults.
All the Beauty and the Bloodshed All the Beauty and the Bloodshed
Laura Poitras
Saturday, 28. 01. 2023 / 17:15 / Small Hall
This deeply personal yet at the same time distinctly political documentary by Laura Poitras (Citizenfour) explores the inextricable link between the activism and the life and artistic work of Nan Goldin, one of the world's most prominent photographers. A Golden Lion for the best film at last year's Venice Film Festival.